WordPress is an often-heard word nowadays. Throughout the time it has gained immense popularity.
Over the years, WordPress has grown from a blogging website to a powerful CMS that powers all of the great websites.
Millions of websites all over the Internet are built on WordPress. Wherever you go, you can find someone who owns a website on WordPress.
Maybe up till now, you did not dare to start your website for this or that reason, but now as we have embarked upon a new decade you can try some new things and take your business to a new level or in this case, start a WordPress site.
Whenever we hear it, we associate it with the globally popular world of blogging. However, there is more to it.
As I mentioned before, WordPress is a Content Management System (CMS), which means that WordPress is a platform you can use to build a website without any coding knowledge. That is an amazing opportunity for those who are not equipped with tech knowledge.
It still allows you to create a website for personal, or professional use, whichever way you find it appropriate to your needs. It can be a blog or a business website, there is also a possibility to make an e-commerce website, where your customers will get the chance to purchase the items you are selling. WordPress gives you the chance to design your website to the smallest details. Everything you have ever dreamt of can be achieved via WordPress.
If you feel the need to improve your business, to increase the growing ability of your business and want to create a website and to make sure that you will reach a broad audience of people who have the same interest as you do, the best way to start is by creating a WordPress website.
One of the greatest things about WordPress, the fact that it is affordable for anyone who wants to try their luck and build a website. Seldom a beginner starts with a big budget. That comes later.
For starters, you need to earn money so you could invest it in the future growth of your business. One of the first ways for you to start is by choosing a web hosting company. The web hosting company is there to make sure that the data of your website is stored on their server.
You can choose from a variety of hosting plans the one which suits your needs the best or in this case the plan which goes best with the idea of how you imagined your site to look.  Each of the plans comes with a monthly fee that you are supposed to pay. However, there is a way for a beginner to save money by choosing a free hosting provider.
 The free hosting provider can help you start your business and start earning money for your future investments. It provides the same services as those companies that would bill you monthly or annually, but here it is free. Because it is never a bad thing to know more.
✋ Stop worrying about SEO and have me do it for you
PS: Ready to work with the 0.01% of all SEOs worldwide? Click here.
Not only is WordPress free but it is open-source, which further means that you can make any changes you want to the code of the site. You can use it for many sites as you want without having to purchase additional licenses.
The fact is that WordPress is the most popular CMS platform, the fact that more than 50% of websites that use CMS are built on WordPress. That means that WordPress powers more sites than any other platform of the entire Internet, which is very impressive.
Statistics have shown that every second of every day there are 17 blog posts published on WordPress. Not only blogs of the influencers but the great media brands such as CNN, The Wall Street Journal, Forbes are built on WordPress.
That proves that the popularity of WordPress is equal to its quality. Behind the WordPress stands a team of people whose passion for what they do has changed the face of the Internet and made our lives easier. If you want to find more about the benefits of teamwork, take a good look at this post on Dzone. The teamwork of people at WordPress is the reason for its success.
WordPress has gained its popularity because of its quality that has remained constant to this day. Furthermore, the reason for WordPress's popularity and its legion of users is not only its quality but features of WordPress that make it so great
1. Simple to use
First thing first, it is important to emphasize the simplicity with which you can use WordPress. It is easy for you to get online and start publishing your content. In no time you can get your website up and your content is available for people to see it and enjoy it. WordPress is there to make your dreams come true with a few simple steps.
You can create original posts, format them as you see fit, insert appropriate photos and videos, and just one click publish it.
2. Versatile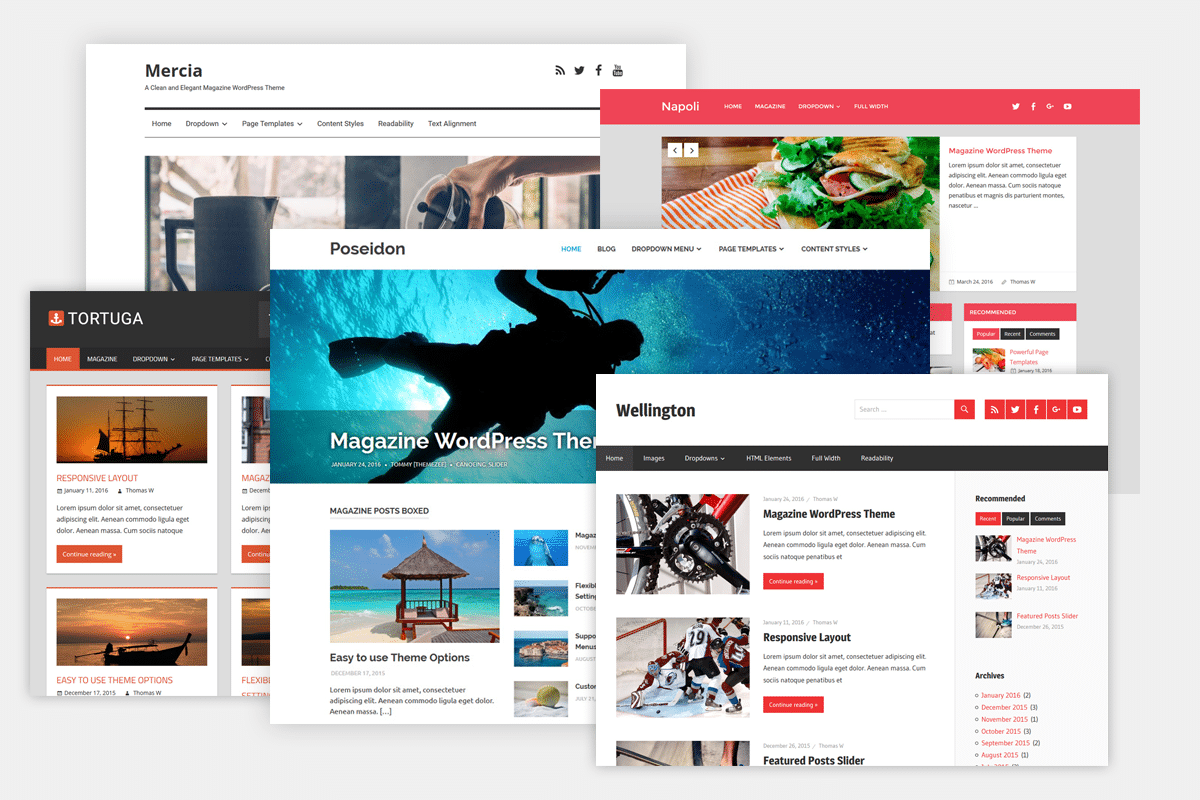 WordPress can be used for the creation of any type of website you may need or want. So that can be a personal blog or a personal website, a professional portfolio, a photoblog, you can create an online community or even a network of websites. Finally, with WordPress, you have a chance of building your application.
You can buy a theme on Envato Elements.
3. Magical Plugins
The fact that WordPress is free is amazing. The fact that it has a ton of great plugins that can help customize your website, the exact way you pictured to be is even better. If you wonder what a plugin is, bear with me. A plugin is a piece of software that contains a function that you can add to your website. It can increase its functionality or add some awesome features to your website. These plugins can improve your photos, your text, and videos.
It can make your site look great for your visitors. One of the good things about WordPress is that you have different plugins for SEO optimization. Even if your WordPress site is SEO optimized, you can fine-tune it with some other SEO plugin that will manage to keep your website high in the Google search engine. If you want to gather more information about the benefits of SEO for your website, read my post on it. That is one of the 'musts' in owning a website. You need to make sure that it stays on the top, so that when people want to read it again it will be easy to access your website.

If you wonder what other plugins are good for you, here you can see the list of the greatest ones. There are almost 40,000 plugins on WordPress. That number only can make your head spin around.
4. Community of people
WordPress has been around for almost twenty years. That means that for all that time the community of people using has grown. Millions of people are using WordPress for different purposes, making different websites, enjoying different types of experiences. If there ever comes the time when you find yourself needing some help, you can get all the help you might need online, whether those are the people who had been using long before you or documents with necessary tutorials you can find. So, every problem you might encounter has probably been solved by someone else. You can also discover people with the same interest as yours and create a new community, where you can discuss different topics.
5. Fully Customizable Platform
With WordPress, you are free to use it any way you like, you can modify it, install it, distribute it or simply use it. General Public Licence is created to protect your freedom and WordPress is licensed under the General Public Licence. The foundation upon which WordPress is built is software freedom.
That is one of the many reasons for its popularity, the freedom that is given to their users, to create the website as they find it most suitable. Plus, WordPress is available in more than 70 languages, so you can build your website in your native language. WordPress offers you endless possibilities.
Conclusion
Do not hesitate with your decision to start a WordPress website. So many people have tried it before you and few of them regret it. I certainly don't.
There are so many amazing features of WordPress that are making it so popular among users. You can build a WordPress website in your native language, design it as you like, using one of the themes (there a thousand options for you), you can post your content in no time. Just one click and the world can see your creativity and everything that you want to share with your audience.
Don't take too much time in deciding whether you have it what it takes to run a website. Of course, you do, as many people before you have tried it and run famous and successful websites with a legion of followers.